Bilateral Exchange Partners
Welcome to the U
The University of Utah has formal, reciprocal agreements with a number of overseas institutions. With these bilateral student exchange partners, we both send and receive students each year. The information below is designed to assist our partner institutions and their coordinators in advising future incoming exchange students to the University of Utah!
Estimated Costs for Semester or Year
Your students should visit the Incoming Exchange Students section of our website for more information as well.

Application Process
Information about the application process for students coming to the University of Utah.

Academic Calendar
Important dates and deadlines, class sessions, registration, and exams.

Orientation

Housing
Exchange students are required to live on campus. We reserve space for exchange students according to the preferences given in the exchange application. To guarantee a reserved room, students must complete their application by the deadline. Instructions on how to complete the housing application are included in student's acceptance packet from the Learning Abroad Exchange Team.

Course Catalogue
Exchange students take between 12 - 15 credits (4-5 courses) per semester. See the University of Utah Class Catalog to review available classes for upcoming semesters or classes that have been offered in the past.

Health Insurance
The University of Utah wants to ensure that international students are fully covered by adequate health insurance while in the U.S. For this reason, all international students on F and J visas will automatically be enrolled in the University of Utah Student Health Insurance Plan administered by United Healthcare.
Transcripts
Once University of Utah students have completed their study at a host institution, the exchange coordinator at this institution should mail the student's transcript to the Learning Abroad Office at the University of Utah:
Learning Abroad
200 South Central Campus Drive
Union Room 159
Salt Lake City, Utah 84112
USA
At the end of a student's exchange program, the Exchange Team will mail one official transcript to each student's home institution. This process may take about 1-2 months. If you have any questions about this process, you may write the Exchange Team.
Office for Global Engagement (OGE) & Agreements
The Office for Global Engagement provides campus-wide leadership and coordination in support of the University of Utah global initiatives, partnerships, and programs.
View Office for GLobal Engagement Website
To establish new memorandums of understanding and bi-lateral exchange agreements, email exchanges@utah.edu for any new proposals.
Meet our Exchange Team
Eric Boscan
Learning Abroad Coordinator
Incoming Exchange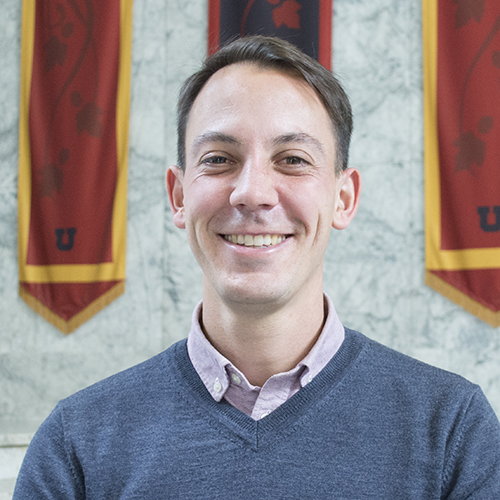 Rick Batchelor
Learning Abroad Coordinator
Outgoing Exchange
Contact Info
Email:
Mailing Address:
Learning Abroad
Attn: Exchange Team
200 South Central Campus Drive
Union Room 159
Salt Lake City, Utah 84112
USA